This is work I did for R/GA Chicago. Their client, Capital One wanted to use their successful spokesman for a March Madness campaign. I was the lucky writer who got to put words in SLJ's mouth, or more accurately, his tweets. It was a very fun job. I suppose I wrote about 80 lines. These were some of the better ones. I also did a one-off for them that garnered over 11,000 likes. A personal best.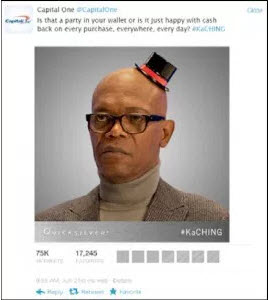 "Is that a party in your wallet or is it just happy with cash back on every purchase, everywhere, every day?"
Oddly enough, at the shoot, he picked the hat. And
I have to say… on him, it works.
These larger executions were meant to seed a user's social feeds when they had success/failure in their March Madness bracket picks.